About Paramount Family Dentistry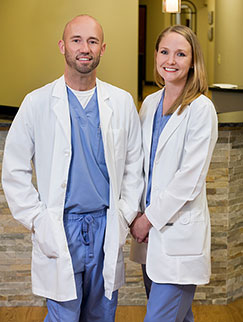 The husband and wife team, Dr. Mark Risinger and Dr. Sarah Shadix, practice a wide range of general and cosmetic dentistry in middle TN. The primary goal of our dentists and staff is to make every patient we treat the sole focus of attention. We understand that each person has his/her own unique dental needs and desires which can often be difficult to communicate in a dental office setting. That is why we are committed to listening to our patients, providing an individualized treatment plan that fits those needs, and taking the necessary time to explain the proposed treatment privately, and in a way that makes sense.
At Paramount Family Dentistry, we believe it is important not only to tell our patients about their oral health, but show them as well. That is why we have 50 inch display HD TV's, state of the art digital x-ray imaging, and intra-oral cameras in each of our treatment rooms.
We are a "kid friendly" dental office in that we treat children of all ages. We also have an entertainment area for kids with lots of things to do while family members are being treated.
Insurance and Payment Plans
We accept most major dental insurance providers and will gladly file any insurance claims for our patients. We also accept payment plans through Care Credit.
Office Hours
Our standard office hours are from 8am-5pm Monday through Friday. We are also available after hours and Saturdays by appointment.